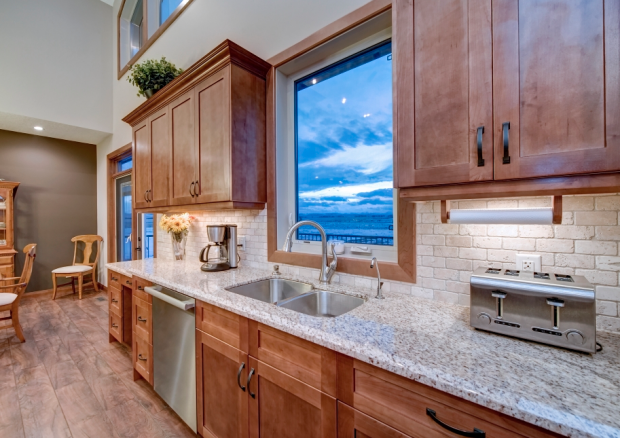 Building a custom home in Calgary is more affordable than you might think. Many home buyers are under the inaccurate impression that building a custom home is an expensive and tedious process. The truth is that custom homes can be built to suit just about any budget, especially if you choose a proven, experienced company like Fine Line Homes.
Fine Line Homes has developed a timely and efficient custom home construction process. It has four major phases: financing, site selection, design and construction.
Own a Custom Home in Calgary: Financing
You are encouraged to secure your financing before you begin the site selection or design process, just so you can finalize your budget and operate within the realm of certainties rather than guesswork. Custom home mortgages are slightly different from the kind of financing you arrange when you're buying a house off the resale market.
Financing is typically released in two stages. The first stage is known as the progress draw, and the second is known as a completion mortgage.
The progress draw provides finances when various phases of the construction process are completed. These draws are made at 16 per cent completion, 50 per cent completion, 75 per cent completion and 100 per cent completion.
Here's a rough overview of what you can expect to be completed at each progress stage:
At 16 per cent completion, the home's foundation should be in place
At 50 per cent completion, the framing is finished and windows and doors are in place
At 75 per cent completion, the home's drywall, plumbing system and electrical system are finished
At 100 per cent completion, the home is ready for you to move in
The first construction phase, which takes place between 0 and 16 per cent completion, is financed by a down payment you make at the outset. Once construction is 100 per cent complete, your financing reverts to a completion mortgage, which is functionally identical to a regular mortgage.
When you take out a completion mortgage, the lender pays off your progress draw and you assume a new debt for the balance owed. You then amortize the completion mortgage over a fixed number of years.
Own a Custom Home in Calgary: Site Selection
Site selection must take place before you begin to design your new home, as the home's orientation and certain features cannot be determined until the site has been finalized. Generally speaking, you will have more design flexibility if you choose to live on a rural acreage, but living in the country may force you to concede some urban amenities. There are advantages and disadvantages to both, which you will have to carefully consider.
We also suggest you evaluate potential sites by considering factors including:
Drainage and slope
Seasonal sun exposure
Access to a water supply
Natural ventilation characteristics
Utility availability
Also, remember that you can do a "tear-down rebuild" of your current home. This is an excellent way to keep costs down, as you won't have to go to the trouble of finding and financing a new plot of land for your custom home.
Own a Custom Home in Calgary: Design
For many clients, the design phase is the most exciting. At this stage, you will work with our team of top-flight architectural and engineering professionals who will turn your vision into a reality.
At Fine Line Homes, we pair our clients with the city's leading architects, interior designers and environmental engineers. We are one of the only eco-friendly custom home construction companies in the area, and we take great pride in building quality homes that maximize efficiency and minimize resource consumption. As a result, our clients enjoy higher-than-average resale values and reduced operational costs.
Own a Custom Home in Calgary: Construction
First, at Fine Line Homes, we offer a guarantee that goes above and beyond what's mandated by the Alberta provincial government. Our homes come with generous, extensive protections that cover our quality craftsmanship and building materials.
Once your home's exterior and interior designs have been finalized, we'll proceed to the documentation phase. When municipal authorities approve your construction plan, we build your house. After it's been approved by city inspectors, you're free to move in!
We at Fine Line Homes want to make your custom home building experience as easy and stress-free as possible. To learn more about the custom home construction process, or if you have any questions about our company, please contact a Fine Line Homes customer care representative.