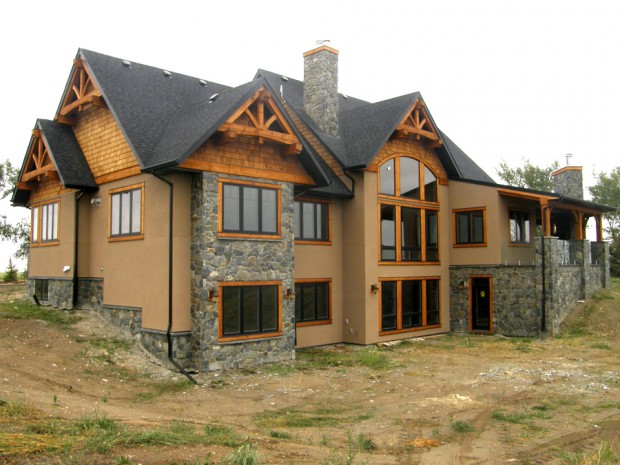 One of the major attractions of building a custom home in Calgary is that you have the opportunity to truly make it yours from top to bottom. Choosing personalized features is one of the most exciting aspects of planning a new custom home, and there are endless ways you can enhance your new home's livability, energy efficiency and value by incorporating unique ideas. From smart home technologies to luxurious indulgences, here are some neat ideas to spark your creativity.

Custom Homes Calgary: Smart Technologies for Your New House

The age of the "smart home" is right around the corner. In essence, these technologies automate your home's lighting, climate controls, security system, appliances and electronics, amalgamating them on an Internet-accessible network that you can control from your smartphone or other connected device. You can change settings with the push of a touchscreen button and check in online to make sure everything is okay while you're out of town.

Here are some of the most popular smart home features:

Intelligent lighting. Both interior and exterior lights can be connected to your handheld devices, allowing you to turn them on or off and adjust brightness from anywhere within range. No more fumbling around looking for a switch in the dark or leaving your backyard barbecue to turn on your patio lights!
Climate controls. Programmable thermostats give you similar remote access, even if you've broken up your home into numerous heating and cooling zones. You won't have to spend energy heating or cooling empty rooms, yet you can be sure you'll always come home to a house that's just the right temperature.
Communications and entertainment. You can streamline your media room by amalgamating all your devices on a master control, or install whole-house audio to enjoy your favourite music from any room at any time.
Live video monitoring. Are you frequently out of town? You'll never have to worry with live video monitoring that gives you a real-time view of your home and property through Internet-connected cameras.
Custom Homes Calgary: Creative Custom Features

While some custom features are practical, others are just plain fun. Use these ideas as a starting point for your planning:

Radiant floor heating. While you can limit this to tile-floor bathrooms that often feel cold to bare feed, radiant floor heating can also be an energy-saving whole-house strategy.
Hidden storage space and rooms. Homes can never have enough storage space, so why not add shelves and cabinets in areas that would otherwise just be left unused? Also, just for fun, you can hide the entrance to a secret storage room or private work space behind what appears to be an innocuous bookcase or shelf.
Pet baths. If you're a dog lover and you don't want a dirty or muddy pet bringing a mess into the house, install a pet bathing station in your garage.
Outdoor work stations. If you do a lot of working from home, why not set up an outdoor desk and work area? It's a great way to make the most of the nice weather without sacrificing your productivity.
Indoor gardens. Hydroponic gardens add a big splash of life and colour to your home's interior. What's more is that you can use them to grow your own produce in indoor, climate-controlled environments.
Beach-style fire pits. If you do a lot of warm-weather entertaining, you can build a sand enclosure around an outdoor fire pit to create the feeling of being at the beach. A similar idea is the porch fireplace, these are especially cozy during cooler weather.
Outdoor kitchens. Calgarians love to make the most of the warm weather. If you're a barbecue enthusiast, building a fully functional outdoor kitchen is an investment you won't regret.
Custom swimming pools. There are many ways to make swimming pools more fun; you can build a faux pond or river in your back yard, or even place a big-screen TV at one end of the pool so you can watch your favourite shows while relaxing in the water.
Custom Homes Calgary: Choose Fine Line Homes

At Fine Line Homes, we use a proven system to help our clients design their dream homes, then live that dream for less than you might think. Because we use premium building materials and incorporate efficiency features into every house we build, our homes tend to have higher resale values than comparable standard builds.
View our stunning photo gallery online, or register with us for more information.