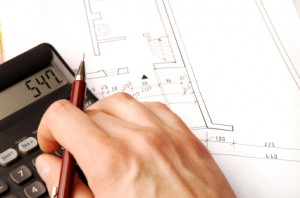 While many people are intrigued by the idea of building a custom home, budget-conscious would-be home builders frequently voice concerns about costs. After all, custom builds are perceived as being more expensive than standard builds, especially when cutting-edge energy efficiency features are being added. However, the truth is that an energy-efficient custom build doesn't have to cost much more than a standard new home. Moreover, many people fail to take into account the fact that the home's energy efficiency features will pay big dividends year after year. In reality, custom new home builders in Calgary like Fine Line Homes offer a superior value proposition their customers – even those who are on very tight budgets.
The Cost of Building a Home in Calgary
It is very difficult to attach a fixed value to the cost of a custom home, since the actual price depends greatly on the exact features, trims, finishes and home systems you select. However, if you would like a concrete ballpark figure, you can likely expect a custom home to cost $300 per square foot or more. For a point of comparison, standard new home builders in Calgary are quoting prices ranging from $200 to $250 per square foot right now. Thus, the simple answer is yes, it may cost you more to build a custom home, but remember: the up-front costs do not tell the whole story.
The Hidden Value of a Custom Build
Because Fine Line Homes prioritizes energy efficiency and builds eco-friendly homes, we are able to offer buyers more for their money than other new custom home builders. First, energy efficient home builders in Calgary such as Fine Line Homes help you save hundreds, even thousands of dollars per year in operational and maintenance costs. With our custom homes, you will save electricity, conserve water, reduce your hot water usage, and keep your home's heating and cooling load in check, which will slash your heating and cooling costs. This also reduces wear and tear on your home's HVAC system, leading to longer equipment life, fewer service calls, and optimized efficiency of your indoor climate control efforts.
What's more is that your energy-efficient home will automatically have a higher resale value than a comparable home that lacks the same conservational features. In a world of rising energy costs, and considering that the upward trend in energy prices is expected to continue in the years and decades ahead, investing in an energy-efficient home is a savvy move that more than justifies the added up-front costs. The old adage that "you get what you pay for" most certainly applies when it comes to the Fine Line Homes approach.
Finally, remember that choosing a company that starts with builder-owned lots can also save you money. All Fine Line Homes are built on lots the company already owns, which helps to offset the higher building costs per square foot.
Building on a Budget with Fine Line Homes
As one of the most innovative new home builders in Calgary, Fine Line Homes is also happy to accommodate any budget limitations you may be dealing with. In essence, if you have a maximum price that you cannot afford to exceed, we will work with you to create a custom home that meets your lifestyle needs while remaining safely within your budget. We also build homes throughout the Calgary area, as our builder-owned lots are also available in Airdrie, Okotoks and most other nearby communities.
We also offer a comprehensive range of floor plan layouts, finishes, appliances, and home systems. Our team is fully staffed with architects, engineers, environmental designers, and interior designers, all of whom will work closely with you to create the home of your dreams while keeping your new home's building costs as low as possible.
If you have any questions about costs, or if you would like further information on our custom homes or our company, please contact us at Fine Line Homes. We will be happy to answer any and all inquiries you may have.