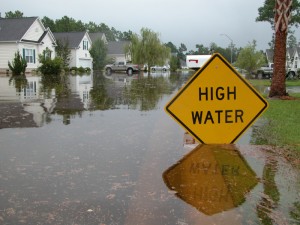 Major flooding in the spring of 2013 devastated Southern Alberta, and currently it's estimated that 2,700 Albertans remain out of their homes. As part of its response, the Alberta government has introduced numerous measures to try to prevent future flood damage from occurring to homes and businesses. The floods have so far caused $5 billion in property damage and counting, and it's projected that insurance claims could total nearly $3.75 billion.
Government measures are aimed at ensuring that no new homes or businesses will built in floodways, and that all homes in floodways  and flood fringes must be refitted with flood mitigation features. Everyone affected can apply for disaster recovery funds if the cost of repairs is higher than the cost to rebuild to a basic construction standard
What Is Flood Mitigation?
While it is impossible to build a flood-proof home in Alberta (or anywhere else, for that matter), there are measures you can take to (a) prevent floodwaters from penetrating the interior or your home, (b) minimize damage if they do, and (c) facilitate the efficient disposal of flood-damaged materials. Combined, these are known as flood mitigation techniques, and the Alberta government is requiring that all rebuilt or repaired homes within the province's high-risk flood zones meet minimum flood mitigation guidelines.
Flood Mitigation Measures
According to the provincial government's new flood mitigation requirements,  homeowners rebuilding or repairing homes in high-risk areas must install moisture-resistant flooring. As custom home builders in Calgary and area, Fine Line Homes is able offer a wide variety of functional and stylish moisture-resistant flooring options.
Homeowners also have the option to add the following flood mitigation features, all of which are strongly recommended by the Alberta government:
Leave your new basement unfinished, as flood waters are more likely to affect the basement than any other area of your home
Use moisture-resistant or salvageable materials in all home construction to the greatest possible degree
Build with easily disposable materials to make future flood remediation easier and less cost-intensive
Relocate your home's main electrical panel in an upstairs area, rather than in the basement
Install a weatherproof electrical system disconnect switch on your home's exterior
Place your primary electrical panel in an elevated area of your garage and connect it to a subpanel servicing your home
Install backflow prevention equipment in your home's plumbing system
Minimize the risk of water seepage by sealing all opening around wires, conduits and pipes
If you are making repairs to your current home, or if you are adding flood mitigation measures to a new home, you must ensure that you have all the necessary permits, and that all measures conform to government safety codes and standards. All flood mitigation measures are subject to inspection by municipal authorities before they will be approved.
Keep in mind that the more flood mitigation measures you have in place, the lower your home insurance premiums will be. Financing for flood mitigation is available to homeowners forced to rebuild their houses through the Disaster Recovery Program. You can apply online,  or request a paper application by calling 1-888-671-1111. In exceptional circumstances, you may also be able to bill repairs directly to the Disaster Recovery Program if you do not have the funds available to finance them yourself.
Questions? Contact the Leading Eco-Friendly Home Builder in Calgary
Fine Line Homes is the premier custom builder of eco-friendly homes in Calgary, Okotoks, and surrounding areas of southern Alberta. If flood damage has forced you to have to rebuild or repair your house and you're interested in optimizing your flood mitigation modifications with features with money- and energy-saving abilities, we will work closely with you to make your vision a reality.
We have a wide range of pre-designed floor plans   to simplify your custom building experience, or you can design your own with the help and input of our world-class architectural and engineering team. If you'd like to learn more, please contact a Fine Line Homes representative.