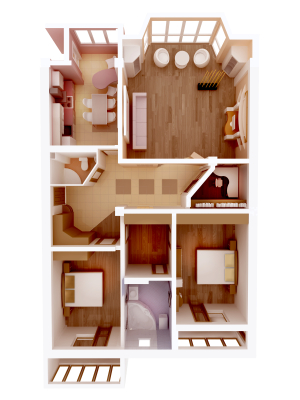 Fine Line Homes is one of the leading custom home builders in Calgary, offering structurally superior homes with optimized energy efficiency and eco-friendly features. While we encourage our clients to get creative, we do offer two standard Calgary floor plans that are specially designed to maximize living space in the city while minimizing household energy consumption. Inspired by modern life and fuelled by innovation, our standard floor plans appeal to both contemporary and traditional tastes.
Calgary Fine Line Home Builders Floor Plans: Option #1
The first custom home floor plan  has strong appeal for those who appreciate modern flair and innovation. Featuring an underground parking bay and strong, bold shapes, this floor plan benefits from a specially engineered floor-to-ceiling glass wall which allows natural light to flood in without affecting your home heating and cooling costs. The three generously sized upstairs bedrooms open onto a unique rooftop terrace, which is ideal for enjoying warmer weather and entertaining guests.
An open-concept layout on the main floor creates a beautifully harmonized space with multipurpose flexibility. You can add your choice of energy-efficient features and home systems, depending on your budget and your particular preferences.
What's more is that this Calgary home builders floor plan was designed to accommodate a duplex with a second unit. If you want to expand the home to include an attached rental property, we're more than happy to accommodate you!
Calgary Fine Line Home Builders Floor Plans: Option #2
Our second standard floor plan  was created for clients who prefer a more traditional look. In fact, this design is all but indistinguishable from a conventional home, except that we've added a wide range of features that enhance household energy efficiency. On the ground floor, you'll find a highly functional and open layout that gives you the freedom to use the space in a wide variety of ways. The generously sized kitchen can be finished with a wide range of eco-friendly materials and accents, and the cavernous dining room functions as the main floor's centerpiece. It can comfortably accommodate even large dinner parties, and is ideal for entertaining friends and family.
Upstairs, you will find three ample bedrooms, including an impressive master suite with its own full bathroom. This floor plan also offers you the flexibility to add additional rooms or increase the size of the existing rooms to your custom specifications. Our inner city lots are generously sized, so it's no problem for us if you'd rather create a larger living space.
More Floor Plan Ideas for Calgary Custom Home Builders
At Fine Line Homes,  we take great pride in providing our clients with exactly what they're looking for. If you would rather create a floor plan of your very own, our nationally renowned team of architects and engineers will happily make your dreams a reality.
If your priority is to optimize energy efficiency, one thing to keep in mind is that orientation has a major effect on its energy consumption. Positioning your home to take full advantage of the natural heating power of the sun is an excellent way to reduce heating costs, which is a boon to homeowners here in Alberta, where we typically experience long and bitterly cold winters.
We're Here to Help!
No matter what type of design you have in mind, we can make it happen for a price that works within most any budget. If you have any questions about our two standard floor plans, or if you would like to consult with us regarding your own unique ideas, please contact us at Fine Line Homes.  We're happy to discuss your specific needs with you in detail.