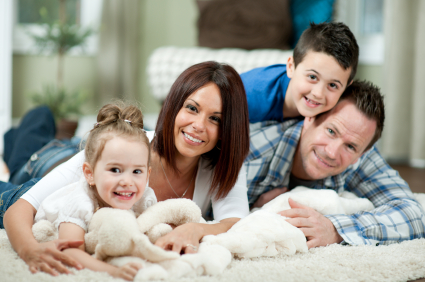 Conventional building practices don't take careful note of chemicals and air pollutants being introduced into the new living environment. These building materials, adhesives, sealants, finishes and furnishings may release dangerous off-gasses and volatile organic compounds, or VOCs, which can be harmful to your family's health.
We use low-VOC paints and coatings, which provide less contamination from harmful toxins, keeping your indoor air cleaner. We also work to limit the off-gassing from other interior components, including the carpeting. We recommend carpets that are made from natural materials such as wool or corn. Other flooring materials include natural and reclaimed hardwood, cork and bamboo. To enhance the beauty and luxury of the kitchen and bathrooms, we can use natural stone for tile and countertops.
We can also cater to your health and comfort by providing individual zone controls for heating and cooling throughout the home.
Our interior finishes are both beautiful to look at and environmentally friendly. We strive to use materials that are plentifully available, renewable, reused or recycled.
Click below to download our full eBook on Sustainable vs. Conventional Home Building