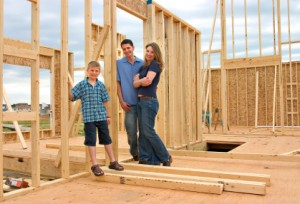 Construction
Once funding is approved and your contract is signed, the builder obtains all necessary permits and construction insurance, verifies that sub-trades have met workers compensation or equivalent requirements, and begins the construction of your home.
Inevitably, there will be last minute changes that could not be anticipated during the design process. These changes are documented using change orders. It's very important to be involved in this process; you'll need detailed descriptions and prices for any changes that will occur. This allows you to manage any additional costs appropriately so they don't get out of control.
Ask your builder when walkthroughs are scheduled and take photographs at specific stages of construction. For example, photograph runs of electrical wiring and plumbing before the drywall covers them up. The most important walkthrough occurs after framing and rough-in is complete. This is critical to ensure the flow of the living space and feel of your home is as satisfying as you originally envisioned. The builder will have your cabinets roughly drawn-in on the floors, and all your electrical boxes and recessed fixtures will be in place. This walkthrough allows you to get an overall feel of your new home and make any necessary changes before construction finishing begins. Since the builder is responsible for your safety, it's best to schedule walkthroughs at specific stages of construction, rather than arriving at the site at unscheduled times.
Click below to download our FULL eBook on the Steps to Building an Amazing Custom Home …