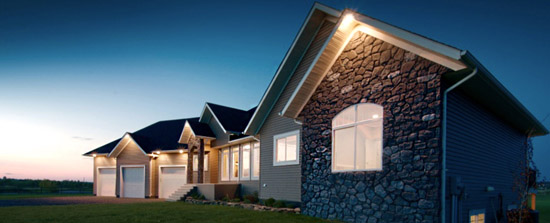 "Selecting a homesite is a critical decision that precedes all design processes"
— Chris McLaren, Fine Line Homes President 
Selecting the site on which to build your dream home is probably the most exciting step of the process. You'll have many things to consider. Remember that when you choose a lot you're choosing your future community, and the size of the lot will determine the size of home you can build.
Selecting a homesite is a critical decision that precedes all design processes. Choosing the wrong site will have long-lasting consequences that can be difficult and expensive to mitigate as your home is constructed and throughout its lifetime.
The following are important factors to consider in homesite selection:
Water supply – An adequate water supply is an obvious necessity. If the lot uses well water, ask for water quality test results and make sure the amount of water available is sufficient for the number of people (and animals) who will live on the property.
Water drainage – To prevent water damage select a well-drained site, avoid marshy areas, and look for the proximity of flood plains. Determine the site's pooling potential so that when spring comes, your home isn't sitting in a pond! A site with good drainage will require little if any grading and well-drained, stable subsoils reduce the risk of wall and foundation cracking. In Calgary, new home builders may provide resources to help you make these determinations.
Prevailing wind direction and natural ventilation – Wind currents and air drainage influence the potential for generating electricity and affect heating and cooling requirements.
Availability of utilities – Make sure septic, power, and other utilities such as cable and internet are available. Specially engineered septic systems add significant costs, and if home is positioned far from the front of the lot, bringing utilities to the home can be more expensive. Paving a road or a long driveway will also increase costs.
Strategic positioning – Choose a site that will allow positioning of the home with an optimum roof pitch for solar electric panels and for passive solar and thermal utilization. Also consider the position windows to take in particular views. Don't place your home in the most beautiful area of the property. According to Christopher Alexander, coauthor of A Pattern Language, one should "Leave those areas that are the most precious, beautiful, comfortable, and healthy as they are, and build new structures in those parts of the site which are least pleasant now." Leaving natural areas as they are preserves habitat for wildlife and reduces landscaping costs.
Building on a slope versus a flat area of land – Sloped sites are great for walkout basements. Building on a slope is more expensive initially, but offers the benefits of earth sheltering. This provides energy efficiency, good water and air drainage, and allows flat areas of a site to be used for other purposes.  Calgary homebuilders and architects can help you calculate costs, as you consider the benefits.
Suitability for growing food – The ability to grow some of your own food has financial, health, and environmental benefits.
You'll have many other things to consider such as access to commuting routes and community services. Depending on your lifestyle, you'll want to consider the location of schools, green spaces, and the proximity of conveniences.
Town and city lots have more architectural controls and restrictions than acreage type lots. When you're ready to make your final decision, your builder and architect can help you determine which type of lot best suits your needs. Making the final decision on homesite selection often helps people accept their dream is about to become a reality. This a very exciting step of the process.
Click below to download our full eBook on the Steps To Building An Amazing Custom Home …