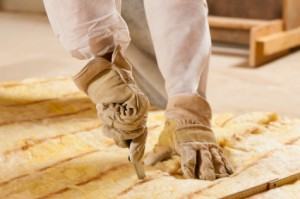 If insulation is installed poorly, mechanically damaged or compressed from moisture, problems arise. Fine Line custom homebuilders are experts in the various types of insulation available on the market and guarantee a water- and air-tight home – whether old or new!
The following are signs of poor insulation and air infiltration in your home. The cost to fix these types of structural design problems can be enormous. If your current home is plagued by these types of problems, a rebuild by Fine Line Homes can make good economic sense.

Poor Air Insulation: Signs

Signs like ice dams, snow melt, high energy bills and visually damaged insulation can indicate poor energy efficiency in your home.
Ice Dams
When heat escapes through your ceiling it warms up your shingles, causing snow to melt and ice to "dam". The water from the melting snow will refreeze once it reaches your lower roof (near the eaves), creating "ice dams" that push against your roof shingles. Ice and water can eventually penetrate into your attic and seriously damage your home. In new homes, this is commonly caused by an improper roof system design or poor assembly preventing proper amounts of insulation to be placed throughout the attic. 
Snow Melt
Heat from your basement that escapes through the walls can cause an even band of snow-melt around your home's exterior foundation. Watch for this tell-tale line to reveal poor basement insulation.
High Bills
If your heating and cooling bills look high, compare them against a neighbour's. If your houses are similarly sized, you both have the same type of furnace and you both keep your homes at the same relative temperature, any large discrepancy is evidence that your home isn't properly insulated.
Visual Damage
Check where your insulation is visually showing–like your attic, unfinished basement or behind electrical outlets. Damaged insulation is thin, compressed, wet, discoloured or contains gaps. Thermal cameras can also be used to view the efficiency of finished walls and to spot potential problems.
Air Barrier
The only way to effectively stop air infiltration through the walls of a home is to properly seal the building envelope with an air barrier.
All Fine Line homes are manufactured using cutting-edge insulation technologies finished off with air barriers. If conventionally built, a continuous layer of plastic sheeting is installed behind your drywall, trapping air inside your home and keeping the temperature and air quality how you want it. Make sure your air barrier is installed on the warm side of your insulation and secured correctly.
Fine Line Homes uses products like SIPs (Structural Insulated Panels), ICF (Insulated Concrete Forms) and spray foam to provide a highly insulated and air tight envelope.
What is Air Infiltration?
Every home has some level of air infiltration. Air infiltration is driven by wind, temperature differences between inside and outside the home and pressures from HVAC appliances. Essentially, it is air moving through spaces like windows, doors, electrical outlets, floors, roofs, walls or other small spaces of your home.
Houses should not be completely airtight. Fresh air in the home helps eliminate odors, allergies and VOCs, and eliminates excessive moisture. Because Fine Line Homes ARE homes are so air tight, we also install HRV's or Heat Recovery Ventilators, which circulate conditioned fresh air through your home in a controlled and efficient manner so minimum heat energy is lost. However, a lot of air infiltration is cause for concern. Air infiltration causes heat loss, reduces insulation performance, and can cause problems with damp and mold.
How to Avoid Air Infiltration:
Adding ceiling insulation offers the most energy savings for lowest costs
Insulation should fill each cavity
Old insulation can be easily replaced and should carefully fit around plumbing pipes, electrical boxes and cavity obstructions
Thermal insulation and air barriers are both necessary to prevent thermal loss and air infiltration for home-builders in Calgary.