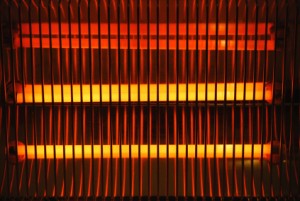 In and around Calgary many homes are built with attached or detached garages that get nearly as cold inside as it is outside during the winter months. Since we're a hardy sort, many of us spend plenty of time in the garage during the winter at our workbenches (even though we can see our breath), and we store tools, sports equipment and other items we would prefer not to freeze as well. So how can you have a more comfortable work space?
The first step to properly heating your garage is insulation. When building your garage, focus on using the best in insulation to keep the inside warm, dry and mold-free. Focus especially on the weak areas like windows and doors. Fine Line buildings are guaranteed to have a sealed building envelope that keeps out both air and moisture. We use superior insulating techniques and products on walls, doors and roofs that can provide better R values and keep your garage more airtight and warm. Structural Insulated Panels or SIPs are one example of an excellent product that can be used to build a highly insulated work space.
An actual heat source is the second step and they come in many shapes and sizes. You can choose from electric, hot water, natural gas, propane and even kerosene heaters, which all can be properly sized for your space. Becoming more popular in attached garages is in-floor radiant heat. This system leverages the thermal mass capacity of your concrete garage floor to maintain a comfortable space to work all while not burning as much fuel as other heating devices – especially when over head doors are opened.
Fine Line is always ready to help you make the right decision based on your needs and budget. We see every building as an opportunity to test our talents and we are committed to providing the very best in eco-friendly and energy efficient homes.
Learn more about sustainable home building below!