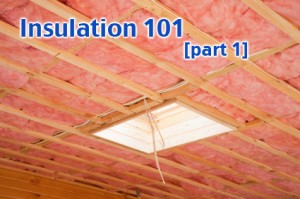 As new home builders in Calgary, you probably already know that insulation has come a long way. From lining old walls with newspaper to asbestos-filled fibers to our current models, materials have vastly improved, especially these past 10 years.
We now have highly energy efficient insulation available. As you work on your dream home, here are some ins and outs of insulation related to energy savings.
Optimizing the energy efficiency of your house depends on proper insulation, a factor that invests in Canada's natural resources. Insulation upgrades are among the most cost-effective jobs when building a home, usually paying for themselves in less than a year. 
Varieties in Energy Savings

In many ways, all insulation is green. Saving energy is its primary job, after all. Furthermore, the materials used in insulation are getting increasingly more environmentally friendly. Old dogs like fiberglass and foam are learning new tricks, and recycled or natural alternatives are a growing trend.
What IS R-value?
R-value is the primary measurement of insulation performance. Derived from standardized tests, it determines how well materials resist the heat that flows out. The higher the resistance, the higher the R-value. R-value ranges between under R-1 to R-60. 
Homes should be insulated at least between R-30 and R-60. However, as new home builders in Calgary, note that the better the material scores in R-value, the higher it costs.
Another consideration with choosing insulating products is air flow. Insulation that allows more air flow is less effective than a more air resistant insulation. Not all insulation is created equal: both types of insulation can have the same listed R value but perform very differently.
These new and improved insulation materials vary in what makes them green, whether R-value, natural materials, allergen-free or all of the above.
Fiber Materials:
Made from shredded, fluffed-up newsprint, cellulose uses 85% recycled materials and contains 15% borate-based fire retardants, environmentally safe mineral compounds that stop mold and pests. It has a higher R-value than fiberglass, but with a comparative cost.
What happens to old jeans? Some cotton and denim gets reused for insulation. Especially used in walls and flooring, it gets treated with the same borate-based fire retardant used in cellulose. One of the greenest insulation materials on earth, it is a popular low-chemical option that uses a natural and renewable resource. 
Sheep live in some of the world's harshest climates, so sheep's wool is a wonderful, natural alternative insulation source. Their wool gets sheared, cleaned, formed into batts and loose fill, then is treated for moths and mildew-proofed before becoming available to new home builders in Calgary, for instance. Breathable, water resistent and much like cotton, sheep wool is a popular, health-related choice.
Often criticized, even fiberglass does much environmental good. Now containing higher recycled materials, up to 40%, manufacturers are consistently working to reduce the airborne fibers it emits.
Foam and other Materials:
Cementitious is an efficient, naturally fireproof foam material that resists mold and pests.
Made from magnesium oxide cement, this insulation product gets mixed with water, frothed with air and pumped into wall cavities.
Despite their oil is chemical base, polyicynene and polyurethane can be considered environmentally sound because of the amount of energy they save. Additionally, their blowing agents are benign to the environment.
Similarly, as a form of plastic, polystyrene wouldn't seem to be a green product. However, like polyicynene and polyurethane, it saves a huge amount of energy and is also a recyclable product.
Some polyurethane uses agriculturally-based resources like soybean oil, sugar cane and corn instead of petroleum-based products. This makes for environmental benefits and helps cut down on the use of petroleum oils.
With an R-value of R-10.3 per inch of thickness, Aerogel is the super insulation for new home builders in Calgary. Aerogel is a very light material (more than 90% is air!) and its molecular structure makes it difficult for heat to pass through. 
Also consider when thinking green:
So what do new home builders in Calgary need to consider if they want to think green?
use plentiful, available, renewable, reused or recycled materials
non-toxic, eco-friendly products 
materials made from sustainably harvested, recycled or reclaimed sources
minimal indoor air containments
air purification and filtering
well insulated air that is moisture tight
As you can see, thinking green is made easier now with these major insulation improvements. 
Installation
When you're ready to install, new home builders in Calgary can choose internal or external insulation applications. What you decide depends on your health requirements, the homes desired performance and your budget. There are many different applications of the above products to choose from. You can always check with our helpful staff at Fine Line Homes to determine what insulation and insulating techniques best fit your needs and budget.