As one of the most eco-conscious and progressive home builders in Calgary, Fine Line Homes is pleased to offer a wide range of environmentally responsible roofing products. Metal roofing is extremely popular with homeowners who want to save energy while reducing their carbon footprints, and recycled shingles eliminate a great deal of negative ecological impact. We also have semi-conventional options like architectural shingles as we work towards refining the "living roof," hailed by many as the "roof of the future."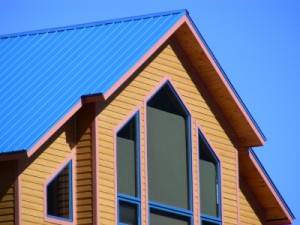 Home Builders Calgary: Metal Roofing
Home builders in Calgary recommend metal roofing for three main reasons:
It is extremely durable, with a life expectancy of 50 years or more
It reflects heat, diminishing summertime heat gain and helping you run a more energy-efficient household
It is recyclable
Metal roofing is available in various configurations, including slates and shingles, tiles, vertical panels and shakes. While steel is the most common metal used in residential roofing, you can also choose copper roofing, which changes colour over time and adds a uniquely beautifying element to your home's exterior.
Home Builders Calgary: Recycled Shingles
You can also source shingles that have been made from recycled and reclaimed raw materials, including wood fiber, plastic, rubber and more. Recycled shingles offer durability that compares favourably with traditional asphalt shingles, and many products have superior fire resistance. This could qualify you for a rebate on your homeowners' insurance, all while helping divert waste that would otherwise have headed to a landfill.
Home Builders Calgary: Architectural Shingles
If you like the look of asphalt shingles but want a superior product, architectural shingles may be the right option. Also known as dimensional or laminated shingles, architectural shingles have more depth than their asphalt counterparts, creating a striking look while improving weather resistance. They complement details like gables, turrets and sharply sloping roof planes particularly well.
Architectural shingles are typically made from a fiberglass base, with synthetic slate or mineral granules concentrated on the surface to improve water resistance and create a textured appearance. They are also available in a much broader range of styles than conventional shingles, including wood shake, slate, and many others.
Home Builders Calgary: The Living Roof
While Alberta's intemperate climate poses as-yet-unsolved engineering dilemmas, many experts agree that it is only a matter of time before the biotechnologies needed to create efficient "living roofs" will arrive in the Calgary area.
A living roof is just what its name implies — a full and complete ecosystem that dwells on top of your house. Most living roofs are made up of grasses and other hardy plants, which live atop a watertight barrier. In addition to helping the environment and providing local wildlife with valuable resources, living roofs reduce noise and maintenance needs.
While living roofs are already available in Calgary, technological improvements in the years ahead will make them a more viable and cost-effective option.
Home Builders Calgary: More Roofing Options
Some of the other types of eco-friendly roofs you may want to consider include:
Shakes and shingles made from reclaimed wood
Rot-resistant synthetic roofs
Ecologically friendly asphalt shingles
At Fine Line Homes, we design your home according to your exact specifications, and we can incorporate just about any feature you might want.
Discover the Fine Line Homes Difference
While we do offer conventional home building, Fine Line Homes specializes in sustainable architecture, applying proven principles of progressive construction to create beautiful, energy-efficient homes with higher average resale values than comparable traditional builds.
If you would like to learn more about our company or our building processes, or if you'd like a free, no-obligation custom home estimate, please don't hesitate to contact us at Fine Line Homes. We proudly serve clients throughout Calgary and southern Alberta.