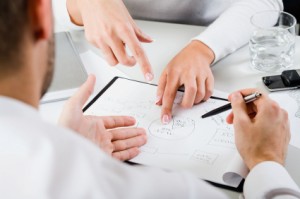 In most cases, custom Calgary home builders require clients to establish financing arrangements that differ slightly from what you would get if you were purchasing a home on the resale market. At Fine Line Homes, we typically have our customers finance their new home construction through a specialized type of mortgage known as a progress draw. The progress draw is designed to finance the various stages of home construction, with money being released at intervals once construction milestones have been reached.
From there, you will also need a second type of mortgage, known as a completion mortgage. In essence, the completion mortgage pays off the full amount borrowed for the progress draw, and you then assume a single mortgage similar to what you'd have if you had bought an existing home.
Financing with Calgary Home Builders: The Progress Draw
As mentioned, the progress draw is designed to finance the ongoing costs of new home construction. Like most Calgary home builders, we at Fine Line Homes have a fixed set of intervals at which financing is advanced. Our financing model has four intervals:
The first draw is made at 16 per cent completion
The second draw is made at 50 per cent completion
The third draw is made at 75 per cent completion
The fourth and final draw is made at 100 per cent completion
The construction that takes place before the first draw at 16 per cent completion is financed by the down payment you make at the outset of the process. Completion of each stage will be independently verified through an official report generated by a licensed appraiser. You should also expect that interest rates for progress draws tend to be higher, on average, than a conventional mortgage, but keep in mind that the loan term is generally very short, lasting about six months. Prime plus 2 to 4 per cent is a common progress draw interest rate.
If you need help covering the costs of a land purchase for your new home, you may also require another type of financing product known as a land draw. However, if you already own the land on which your new home is being built, most lenders will allow you to use the equity you have built up in the land to make the down payment required for construction to begin.
Financing with Calgary Home Builders: The Completion Mortgage
When your new home is built and you're ready to move in, your completion mortgage will kick in. The completion mortgage is typically arranged about 30 to 45 days before construction of your new home wraps up.
The terms and interest rates of a completion mortgage are generally commensurate with standard mortgage loans for resale properties. What will happen when you transition to the completion mortgage is this:
Your completion loan lender will pay off your progress draw in full
You will assume the full amount of the completion mortgage, paying it off over a specified term just like a regular mortgage
It might seem a little complicated, but it's really not. Think of it like this: the progress draw covers the construction, and the completion mortgage pays off the progress draw and becomes your new mortgage once you move in.
Financing with Fine Line Homes
At Fine Line Homes, we understand the complexities of real estate financing, and we will work closely with you to ensure that you can get the financing you need to build the home of your dreams. As one of the leading custom Calgary home builders, we enjoy close working relationships with numerous lenders and we can help you secure the financing you need.
The process starts with a new home estimate.  Once you have a clearer idea of how much your new home will cost, you can then turn your attention to arranging a progress draw and a completion mortgage. You will normally arrange both loans through the same lender, but you're not obligated to.
As part of our commitment to customer care, we will be happy to speak with you in detail about home financing, or any other aspect of the custom home building process. Please contact us if you would like to discuss your particular needs.