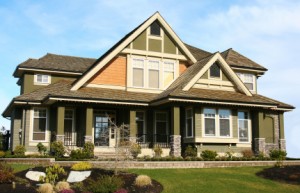 As one of the leading Calgary custom home builders, Fine Line Homes is pleased to offer a comprehensive selection of exterior finishes. While we can customize your new home to your exact specifications, there are several options that have proven particularly popular with our clients. All our exterior finishing materials are specially sourced and carefully selected for optimal durability and the utmost elegance and beauty.
Calgary Custom Home Builders: Popular and Striking Exterior Options
Whether you want a home with a traditional look or prefer an exterior finish with contemporary appeal, Fine Line Homes has a full range of options available. Here are a few suggestions to help you get started:
Fiber cement siding. At Fine Line Homes, we use James Hardie fiber cement siding products. James Hardie is a world leader in the exterior building materials industry, offering an impressive catalogue of weather-resistant siding, lap siding, panels and trim products. Great as a primary exterior finish or as a complement to brick or stone, fiber cement siding enhances your home's weather resistance and offers classic beauty for an affordable price.
Stucco. As one of our most popular exterior finishes, the Calgary custom home builders at Fine Line Homes are pleased to offer both natural and synthetic stucco options. Natural stucco is made of a combination of sand, cement and water, and is applied wet to your home's wooden framing and structural elements. Synthetic stucco is typically crafted from acrylic, and is available in a dazzling range of colours and patterns to accommodate homeowners looking for a unique exterior finish.
Natural and cultured stone. Stone veneers are extremely popular with people who prefer a traditional look. At Fine Line Homes, we offer both natural and cultured stone products. Natural stone is extremely durable, with a rich visual appeal that never goes out of style. Cultured stone is a lightweight, semisynthetic alternative to natural stone that offers a similar look at a lower cost. In recent years, cultured stone manufacturers have incorporated increasing proportions of recycled content in their products, thus reducing its ecological impact.
Soffit materials. Not to be overlooked as an exterior visual element, your soffits can be finished with wood, aluminum, and smooth or ribbed fascia boards. Each of these materials has its own merits; wood offers unmatched natural beauty, while aluminum and fascia soffit boards are high on durability and low on maintenance. It's a good idea to choose ventilated soffit panels, as they help keep indoor humidity levels in the optimal range while protecting your eaves from moisture damage.
There is a great deal of choice within each of these categories, so feel free to take your time and explore your options. The Calgary custom home builders at Fine Line Homes will be happy to explain the relative merits of each exterior building material and offer you any guidance or assistance you may need in narrowing down your many options.
Calgary Custom Home Builders: The Fine Line Difference
Fine Line Homes is one of the top Calgary custom home builders, using sustainable building  principles to provide each and every one of our clients with optimized energy efficiency in addition to unmatched beauty.
We've worked hard to devise a unique system that makes the custom home building process easy and affordable, and we're happy to explain the steps involved in building your own custom home. As part of our commitment to outstanding customer care, we always strive to help you build the home of your dreams at a price you can afford. Custom home ownership is more affordable than you might think! If you'd like to learn more about our company or our process, or if you have any other questions, please don't hesitate to contact us.