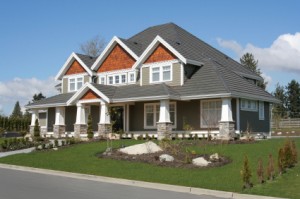 Fine Line Homes of Alberta builds custom, energy-efficient homes that meet Canada's EnerGuide standards and come with one of the most comprehensive warranties in the industry. We are proud of the work we do and we're happy to stand by it. We offer a premium new home warranty through Progressive Protected, Alberta's leading provider of residential real estate warranty services. Progressive only partners with the very best builders, and we're pleased to be part of its new custom home warranty program.
Your Alberta New Home Warranty: How it Works
When construction of your new home is complete, Fine Line Homes arranges for municipal authorities to visit the site and perform an inspection. Once the inspection is complete, an Occupancy Permit will be issued, which signals that you're ready to move in at your earliest convenience. Your warranty coverage kicks in as soon as the Occupancy Permit is issued.
Through Progressive Protected,we at Fine Line Homes provide a comprehensive satisfaction guarantee. As a premium builder, we go to great effort to ensure all our houses exceed municipal safety standards, and we have never had to honour a warranty claim.
However, if the unexpected should happen, your Progressive warranty covers building defects, which are defined as features or systems that do not meet local building codes. Progressive Protected will dispatch one of its agents to conduct an investigation, and if repairs or upgrades are deemed necessary, Fine Line Homes will promptly honour its obligations free of additional charge.
In order for you to file a claim under your warranty coverage, the building defect must:
Create a significant risk to the health and/or safety of the occupants
Be the potential cause of material damage to the home
It's also important for you to understand what your new home warranty will not cover. You are not eligible to file claims under your new home warranty for issues related to:
Property and site grading
Exterior landscaping
Detached structures and outbuildings
Septic systems
Municipal services
Weather damage
Damage caused by animals or insects
Progressive uses a seven-step process in its claims investigation system. The first step is claim submission, in which you notify Progressive of a potential issue. Next, Progressive will confirm that your submission was received. Next, Progressive will contact the builder and wait for a response, and when it is received, Progressive will proceed with an investigation. A target date will be set for the conclusion of the inspection, and then repairs will be undertaken. The seventh and final step covers the completion of all necessary repairs.
Understand Your Rights and Responsibilities as a Homeowner
At Fine Line Homes, we strive to provide our clients with all the resources they need for maximum comfort and enjoyment from of their new homes, as well as to protect the investment they've made. When your new home is ready, we will provide you with manuals detailing the correct operating procedures and maintenance guidelines for all your home's appliances and systems. Keep in mind that system maintenance is the responsibility of the homeowner, and that you will not be eligible to file a warranty claim for problems caused by misuse, negligence or improper system upkeep.
If you have any questions about our new home warranties, or if you would like any further information about our homes or the services we provide, please don't hesitate to contact us at Fine Line Homes. We will be pleased to address your questions or concerns in detail.