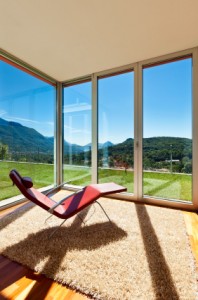 If you're thinking about building a new luxury custom home, you may be under the misconception that going green means you have to sacrifice comfort. But can energy-efficient equal luxury? The answer is an emphatic yes. Energy-efficient homes have all the creature comforts you'll find in standard-built homes, and only differ in one regard: the appliances, home systems and building materials used by eco-friendly luxury home builders in Calgary are highly efficient and environmentally friendly.
Some examples of energy-efficient luxury homes from around the world exemplify green luxury:
Pamela Anderson's home in Malibu, California has countless energy efficiency features and makes extensive use of eco-friendly building materials. It includes an intricate system of photovoltaic solar panels and is currently valued at approximately $8 million U.S.
Julia Louis-Dreyfus of Seinfeld fame has one of the greenest luxury homes in the world. Located in Santa Barbara, California, Louis-Dreyfus's mansion features a retractable roof and solar power, and makes prominent use of salvaged and repurposed wood.
Actor Ed Begley Jr. brings the combination of luxury and energy efficiency to a whole new level. His Southern California home features an outdoor solar-powered oven, rain barrels, a wind turbine and even a fence constructed of recycled milk jugs! Some reports have surfaced that claim his annual power bill is only $300.
Orlando Bloom's home in London, England draws nearly all of its power from an extensive grid of photovoltaic solar panels.
Julia Roberts recently completed a $20 million home renovation to incorporate salvaged and repurposed building materials and add solar power panels.
While you may not be in the same financial stratosphere as these celebrities, their prioritization of green technologies can be an inspiration to you as you design your own energy-efficient home with the help of luxury custom home builders in Calgary.
Calgary Luxury Home Builders: Key Trends in Energy Efficiency
Environmental consciousness is being incorporated into luxury homes more and more frequently. Beyond the basics like energy-efficient appliances and HVAC systems, here are some of the most popular eco-friendly new home trends we've been seeing:
Motion-sensing lights. These systems make turning lights on and off a thing of the past. Using energy-saving LED bulbs, motion-sensing indoor light systems automatically activate and adjust lighting levels depending on your activities.
Rainwater harvesting. An advanced rainwater harvesting system can dramatically reduce your household water consumption. You can use harvested rainwater to water your gardens and fill plumbing fixtures like toilets and outdoor fountains.
Eco-friendly building materials. In addition to reclaimed wood and environmentally friendly alternatives to conventional materials, such as bamboo in place of hardwood, you can use a wide range of eco-friendly building materials in your home. Look for eco-friendly paints, countertop materials, and interior or exterior trim and accent materials.
Open-plan layouts. An open-concept floor plan can give your household energy efficiency a significant boost, since it's much easier to control indoor conditions. Combine this strategy with an electricity-saving HVAC system and save big on energy costs without sacrificing one bit of your comfort.
Solar power. Yes, solar power has been around for a while, but new technological advancements have made it more accessible and affordable than ever before. Some homes even generate an electricity surplus, and you might be able to sell power back to the grid to generate a profit!
Luxury Home Builders: Other Important Considerations
To build a truly energy-efficient home, you need to take a whole-house approach. There are four interdependent aspects of home design to consider:
Exterior. Your home's frame, foundation, roof and soffits, and façade can all be made from materials that promote superior energy efficiency while offering striking beauty and excellent value.
Interior. Appliances, plumbing fixtures, countertops, finishes, frames, windows and lighting systems can all be optimized for maximum efficiency.
Structural. Your home's shape and orientation can both be designed to allow for maximum exposure to natural light while minimizing summertime heat gain.
Systematic. Intricate heating and cooling systems, such as geothermal HVAC, as well as energy-saving household energy management and climate control systems are available. Partner these with power-saving home electronics and entertainment devices, low-energy LED lighting, heat and energy recovery ventilators, water recycling systems and air purification technologies and you'll have a highly efficient home with a staggering array of ultra-modern conveniences.
Ready to Learn More?
At Fine Line Homes, we leverage all these techniques and technologies for the benefit of our clients. As one of the leading luxury home builders in Calgary, we have extensive experience helping our clients realize their lifestyle dreams while enjoying the comfort and value offered by optimal energy efficiency.  If you would like to learn more about how you can make your custom luxury home maximally efficient, or if you'd like to discuss your custom home vision with our experts, please don't hesitate to contact us.