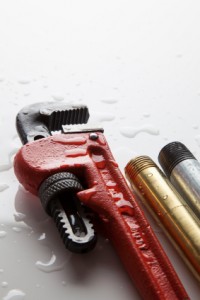 Flood prevention is a topic on the minds of many Alberta homeowners in the aftermath of the floods that struck the southern part of the province in the spring of 2013. While all new and rebuilt homes lying within Alberta's "flood zone" are now required by provincial law to incorporate active flood mitigation features, it's always a good idea to install flood prevention mechanisms even if you don't have to. All homes, regardless of where they are, can be flooded through the municipal sewer system, and there's also no telling when a major rainstorm or natural disaster could send water levels spiking to extreme levels.
Backflow valves and sump pumps are two of the most common anti-flooding features used in homes today. However, their modes of action differ significantly, and if you're building a custom home, you should certainly be aware of how each appliance works to protect your investment.
Backflow Valves in Calgary
Calgary home builders will typically offer to install a backflow valve in newly built dwellings. A backwater valve is a relatively simple and inexpensive device that works to prevent sewage backflow from penetrating your home in the event of a major storm or sewage system malfunction.
Home builders in Calgary recommend backflow valves because they provide effective, reliable and very affordable protection against sewer water penetration. These one-way valves essentially seal off incoming sewage routes, making it impossible for sewer water to enter your home while still allowing water leaving your home to enter the sewer system. While the vast majority of Calgary new homes come with backflow valves built in, you may have to have one installed if you live in an older house. Considering that a sewage flood can easily cause damage in excess of $25,000, a Calgary backflow valve is an easy and wise investment.
Sump Pumps in Calgary
As a flood prevention measure, sump pumps are recommended to homeowners who are building in designated "flood zones." These powerful pumps are able to quickly and efficiently expel water from your home in the event of a flood. Most homes have only one sump pump, but for added protection, you can also install a secondary sump pump and as many additional backup sump pumps as you think you may need. If your home has a large basement or a sprawling floor plan, it's a good idea to install more than one sump pump to ensure all areas of your home can be serviced in the event of a flood.
When shopping around for sump pumps, keep the following pieces of advice in mind:
Choose a pump with a mechanical switch instead of a pressurized switch. While a pressurized switch will automatically turn on the pump if your basement floods, they can also become saturated with water and fail to shut off. This can damage or even destroy the pump altogether, so a manual switch is generally considered to be a better overall choice.
Stick with pumps that have screenless intakes and powerful impellers. Look for an impeller that is capable of expelling solids with a diameter as wide as half an inch (1 centimeter).
Always purchase an iron core sump pump. Those with plastic cores tend to have shorter lifespans.
If you have enough space, a submersible sump pump is always a better choice than a pedestal sump pump. The only time you should choose a pedestal pump is if your pump basin isn't big enough to house a submersible model.
Fine Line Homes is a sustainable builder of custom homes in Calgary and throughout southern Alberta. In addition to state-of-the-art safety features, our luxurious and well-built homes also make extensive use of environmentally friendly materials. Our expert engineering and architectural staff work hard to make whole-house energy efficiency a top priority, which adds value to your home while reducing its operating costs. To learn more about our custom homes, or if you have any other questions about flood prevention strategies, please don't hesitate to contact us.